International Conference 2022
From One Shore to the Other
New Perspectives on Funerary and Religious Practices in Ptolemaic and Roman Thebes
The Ptolemaic period (332 – 30 BC) saw the emergence of new funerary compositions with diversified contents and formats that would gradually supplant the famous Book of the Dead, particularly in the Theban area.
The goal of this international conference is to connect textual, religious, socio-economical and historical backgrounds. The conference will bring together egyptologists, papyrologists and archaeologists, involved in research related to the Theban area during the Ptolemaic and Roman periods, to discuss funerary, documentary and archaeological sources and examine the socio-cultural factors and the influence of local cults, that could have contributed to the evolution of late funerary literature.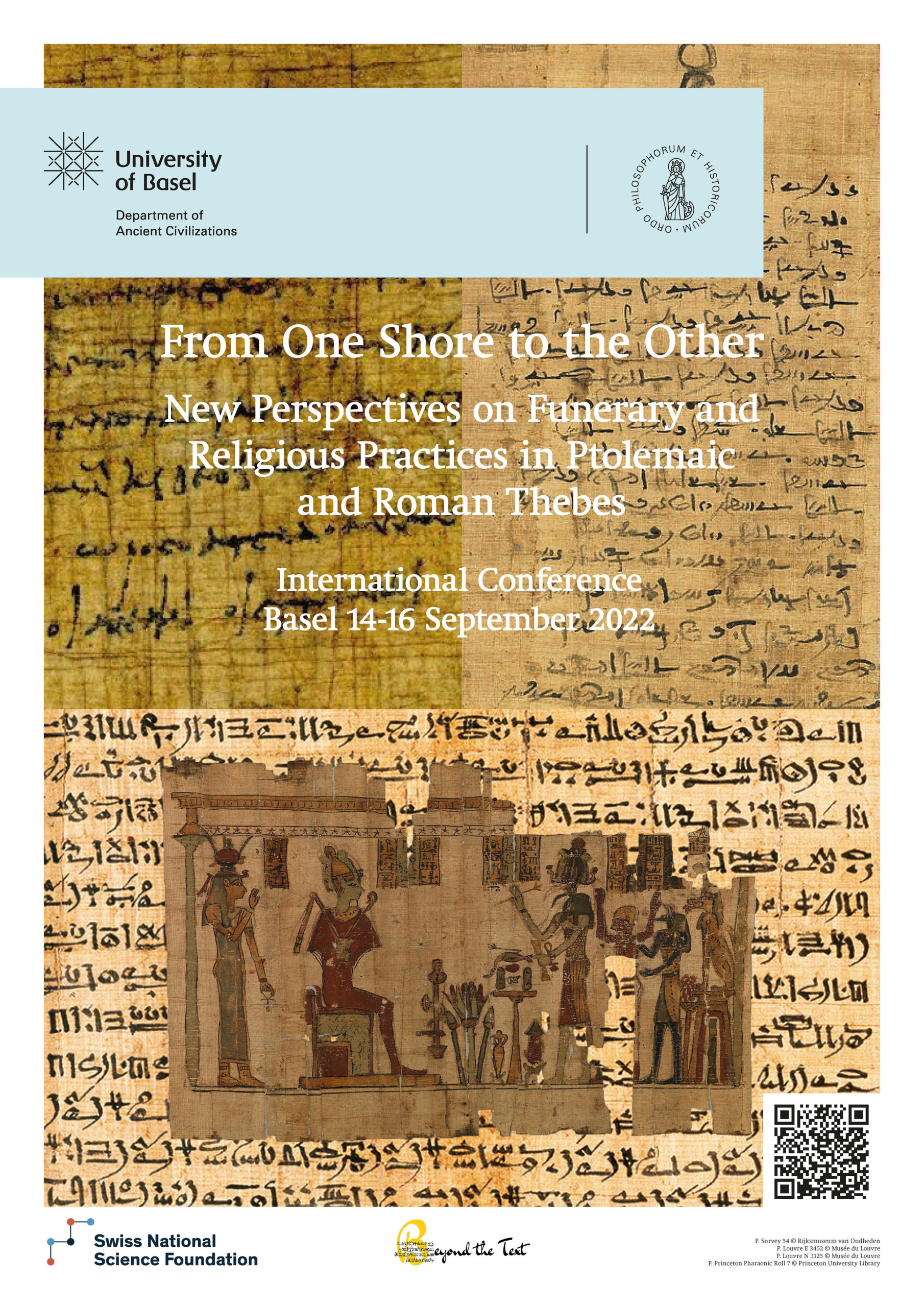 Prof. Dr. Sandrine Vuilleumier,
Lauren Dogaer and Cyprian H.W. Fong
This event is part of the PRIMA
research project Beyond the Text.
New Funerary Compositions in the
Graeco-Roman Period: Textualities
and Archaeology in Thebes and is
sponsored by the Swiss National
Science Foundation (SNSF).
Participation in the conference is free,
but registration is required.
Attendance via Zoom is also possible.
To register, please send an email to
conference@beyondthetext.ch.
University of Basel
Vesalianum (large auditorium)
Vesalgasse 1
4051 Basel
Location Map
Program of the Conference
Wednesday
September 14, 2022
Sandrine Vuilleumier
Introduction
Susanne Töpfer
Funerary and Religious Manuscripts in the Museo Egizio from the Ptolemaic and Roman Period – An Overview
Cyprian H.W. Fong
Me So Hungry, Me Want Milk! A Case Study of P. BM EA 10264
Moderation
Ann-Kathrin Gill
Andrea Kucharek
The Various Affiliations of P. BM EA 9916
Thursday
September 15, 2022
Ralph Birk
Priests Working in Shifts. Reconstructing Theban Cults and Administration through the Phylae System
Moderation
Katelijn Vandorpe
Lauren Dogaer
A Division of Labour across Clergies?
Socio-Cultural Connections between Theban Priesthoods Reviewed
Frédéric Colin
An Allusion to Hatshepsut's Causeway in a Demotic Mummy List in the Bibliothèque Nationale et Universitaire de Strasbourg?
Moderation
Sandrine Vuilleumier
Abraham Fernandez-Pichel
Le voyage de Khonsou-Chou de Karnak à la nécropole des dieux de Djêmé à la période gréco-romaine
Sandrine Vuilleumier
New Perspectives on the First Document of Breathing
Mark Smith
'You Will Assume Your Form as a Serpent': Books of Transformation from Ptolemaic and Roman Thebes
Gert Baetens
Contracts about Mummification in Ptolemaic Thebes and Beyond
Moderation
Cyprian H.W. Fong
Julia Budka
Between Tradition and Innovation: Contextualising Ptolemaic Funerary Equipment from the Tomb of Ankh-Hor (TT 414)
Conference Dinner at the Museum
Ann-Kathrin Gill
The People Behind the Papyri
Marion Claude
Uncommon Texts for Common People? A Study in Prosopography and Funerary Texts in Akhmîm
Katelijn Vandorpe
A Controlling or Accommodating Government? The Organization of the Temples' Economic Activities and Finances in the Ptolemaic Thebaid
Stefania Alfarano and François Gérardin
The Funerary Materials and Cultural Identity at Roman Antinoopolis